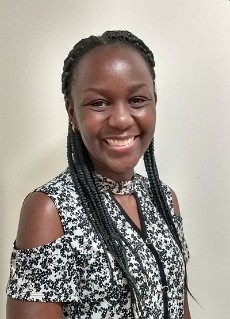 Alum of the Month for September, 2021
WINNIE GIMODE
Winnie Gimode is originally from Kenya.  She received a Bachelor of Science in Biochemistry from Kenyatta University, Kenya, and proceeded to do a Master of Science (Biochemistry) at the same institution. Before joining UGA, Winnie had the opportunity of working in a top research laboratory in Kenya (Kenya Medical Research Institute), where her research focused on malaria drug resistance. At the same time, she was a lecturer of Biochemistry at Mount Kenya University, where she taught undergraduate Biochemistry courses. It was during this time that Winnie took a keen interest in teaching and mentoring students, hence motivating her to pursue graduate education at UGA.
Pursuing a doctorate degree at the Institute of Plant Breeding Genetics and Genomics at the University of Georgia was a complete change of course for Winnie. She not only completely shifted to a new field and embraced a different kind of challenge, but also excelled and found great satisfaction in it. Winnie was trained in the lab of Cecilia McGregor, which focuses on vegetable breeding, genetics, and genomics. During her PhD, she developed assays applicable in marker assisted selection for flowering time and resistance to gummy stem blight disease, which are key traits in watermelon breeding.
Winnie graduated in August 2020 and became a postdoctoral research associate in Katrien Devos' lab, at UGA. Research in the Devos lab focuses on economically important cereals, bioenergy crops and halophytic turfgrasses. Specifically, Winnie works on determining the genetic basis of important traits in switchgrass and finger millet by identifying and characterizing candidate genes associated with the traits.
Graduating from the Institute of Plant Breeding, Genetics, & Genomics at UGA accorded her skills, experiences and exposure that prepared her for research and leadership in the competitive world of science.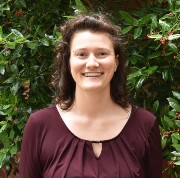 Alum of the Month for August, 2021
NICOLE BACHLEDA
Nicole Bachleda grew up on a family farm in Marengo, IL, and attended the University of Illinois to earn a Bachelor of Science in Crop Science.  As a student, she started working part-time as a research assistant for the Soybean Breeding Program under the direction of Dr. Brian Diers, where she developed an interest in plant breeding.  She also took a semester abroad at Wageningen University, Netherlands to learn about international agriculture systems.
Bachleda then pursued a Master's of Science in Plant Breeding, Genetics, and Genomics in Dr. Zenglu Li's Soybean Breeding and Genetics Program at the Institute of Plant Breeding, Genetics, and Genomics, University of Georgia.  Her research projects focused on fine mapping the FatB1a gene controlling low palmitic acid and determining the effect of high oleic acid content on soybean yield. Due to her achievement in research, she won the first place in the poster competition at the 2015 national Soybean Breeders Workshop and the first place in the 2015 E. Broadus Browne Awards in M.S. category at the University of Georgia
After receiving her master degree, Bachleda joined the Soybean Genetics and Genomics Lab and then Soybean Breeding Program as the molecular laboratory manager at the University of Missouri. Her responsibilities included discovery of soybean cyst nematode resistance genes and molecular breeding for the high oleic and low linolenic acid soybeans. She was also involved in the Soybean Innovation Lab and traveled to the International Institute of Tropical Agriculture in Ibadan, Nigeria to train students and staff on running a molecular breeding laboratory to support soybean breeding efforts as part of the U.S. Feed the Future Initiative. 
In 2018, Bachleda went back to the University of Georgia, working in the Wild Peanut Lab, and then joined the Soybean Breeding and Genetics Program as a Molecular Breeding Lab Manager.  Her responsibilities include managing soybean molecular breeding lab, discovering genes/QTLs for traits of interest, utilizing genomic tools and high-throughput/or precision phenotyping to support soybean cultivar development, and providing support to graduate student and post-doctoral researcher's projects.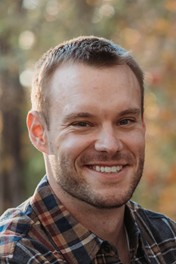 Alum of the Month for July, 2021
ZACHARY KING
Zachary King is originally from Old Forge, NY in the heart of the Adirondack mountains. He received a Bachelor of Science in Biotechnology, with honors at SUNY-ESF, Syracuse, NY. Through his undergraduate research, he became passionate about genetically engineering plants.
He received a Master's of Science in 2011 from the University of Georgia. There he successfully selected elite genotypes of switchgrass from the cultivar 'Performer,' and created reliable and efficient methods to genetically engineer these with the gene gun through a United States Department of Energy Grant. He also bred switchgrass genotypes amenable to engineering. During his master's degree, Dr. Parrott helped Zach secure a unique opportunity to study abroad at the University of Natural Resources and Applied Sciences (BOKU), in Vienna, Austria. While there, he helped develop tissue culture propagation methods for jatropha (Jatropha curcus).
Prior to completing his Master's of Science, he won a competitive award to travel to the Philippines, sponsored by International Rice Research Institute. There he completed their Research to Production course, interviewed farmers, and realized he wanted to be a plant breeder. Shortly after, Zach started his PhD under the direction of Dr. Boerma and Dr. Li. He won the United Soybean Fellowship, which supported research monies to find, map, and deploy new resistance genes to soybean rust (Phakopsora pachyrhizi). Collaboratively, Zach fine mapped Rpp2, and discovered three novel resistance genes Rpp4-b, Rpp6-b, and a novel resistance gene Rpp7. His research group also deployed elite soybean varieties with Rpp genes (near isogenic lines) that are freely available to the research community. During his PhD work, Zach got a CO-OP at Monsanto as the assistant to a soybean line development breeder (Dr. Jesse Gilsinger), who mentored Zach and got him excited about breeding in industry.
Zach graduated in 2015 and became a Maize Line Development Breeder at legacy Monsanto/Bayer where he was mentored under Dr. Marvin Boerboom and others. When collaborative breeding initiatives were created, he became the Maize Genetic Enhancement Breeder for Monsanto, and led all efforts for diversity breeding for the 100 RM and earlier corn belt and developed methodologies for disease resistance breeding, and rapid cycling too.
In June of 2020, Zach joined Syngenta as a Product Placement Scientist (commercial breeder) and in June of 2021 became a Breeding Project Lead (line development breeder), allowing him to pursue his greatest passions. Zach has five inbred patents from his first year of breeding and is excited about the future of technology and breeding methodologies.
As a graduate of the Institute of Plant Breeding, Genetics, & Genomics, he was well prepared through hands-on experiences and course work to pursue professional challenges and opportunities. In his spare time, he enjoys kayaking, SCUBA diving, archery, hunting, dog training, and fishing.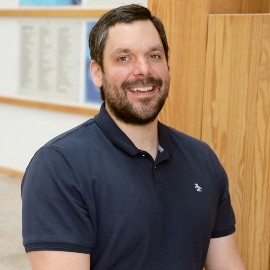 Alum of the Month for June, 2021
JOSH CLEVENGER
Josh Clevenger was trained in the lab of Peggy Ozias-Akins in plant breeding and genomics at the University of Georgia's Institute of Plant Breeding, Genetics, and Genomics.
During his PhD, he was a major contributor in the peanut genome initiative, an industry funded project to sequence the genome of cultivated peanut, develop genetic resources for breeding programs, and provide improved cultivars to maximize profits and provide sustainability at all levels of the peanut industry.
After a short USDA-NIFA postdoctoral fellowship, Clevenger worked for Mars-Wrigley on the global nut science team where he designed and deployed genetic improvement projects across 5 continents where peanuts are grown.
Clevenger joined Hudson Alpha in the spring of 2020 as a faculty investigator in the Plant Center for Sustainable Agriculture. Specifically, Clevenger's lab is focused on optimizing the computational pipelines to optimize the use of next generation sequencing and genomics in genetic improvement projects involving crops with complex genomes. The lab then seeks out improvement targets that are crucial for on the farm profitability, develops tools for improvement of those targets, and uses advanced breeding techniques to rapidly develop new varieties that maintain yield under threat of pest pressure, stress from extreme temperatures and drought, and mitigate aflatoxin contamination.